Rancho de Philo Winery

Rancho de Philo Winery is located in the foothills of the Cucamonga Valley, 45 miles east of Los Angeles. It was founded in 1974 by Philo Biane after he retired as President/CEO of Brookside Vineyard Co., then one of California's oldest wineries. When he retired and established Rancho de Philo, his daughter, Janine Biane Tibbetts joined him. She and her husband, Alan, are continuing the family tradition (begun in San Juan Bautista, CA in 1832) of making award winning dessert wines.
The sole wine product of Rancho de Philo is an exceptional Triple Cream Sherry. Made in the traditional Spanish style, fifteen soleras of 15 barrels each are utilized in the final blending of wines ranging in age from 12 to 58 years. The wine is made from the Mission grape and is aged in 50 gallon oak barrels until it reaches a deep amber color. Hints of golden raisins, butterscotch, and nuttiness attest to the sweetness and complexity that is only achieved through time and the warm California sun. We invite you to sip and savor...then smile as you take another sip.
Rancho de Philo Triple Cream Sherry is a premium dessert wine that has been garnered with numerous awards throughout the years. It has consistently won Gold or better at the many competitions we have entered. Four times we have been honored as Micro Winery of the Year at the California State Fair. We have also won Best of Class, Best of Division and/or Double Gold at the Los Angeles International, Pacific Rim, Orange County, San Diego International, Sunset Magazine and London International Wine Competitions, as well as many others.
We are also excited to announce that we were not only named Micro Winery of the Year, but received the highest honor of 100 points at the California State Fair for our 2021 Blend!
This year, sales from the winery direct to the public will be held from Saturday November 4th through Sunday November 12th. Please note that we usually sell out during this week.
Current pricing and order information can always be found on our Store page, which will be updated in early October for pre-sales. Orders can be shipped for out of area customers or on-site pickup during our sale week. Check back regularly for updates on shipping and availability.
From our family to yours...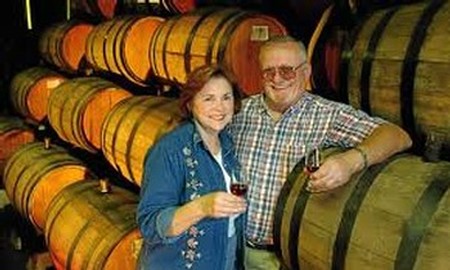 We hope you savor every sip
~ Alan and Janine